Love & Mathematics - A Mix for Proof
Explanation:
On the surface, David Auburn's Proof is a very simple play. Catherine is a mess. Cathy's dad, Robert, was a crazy mathematician, but now he's dead. Cathy's older sister, Claire, is a meddling career woman. And Hal, Robert's former graduate student, is rifling through the office upstairs in search of some great mathematical discovery. Add in some psychological drama, family drama, comedy, and romance, and this well-made play becames an exceptionally elegant and intriguing piece of theatrical fare.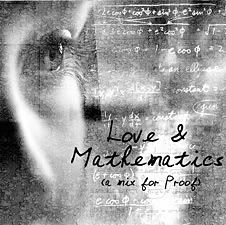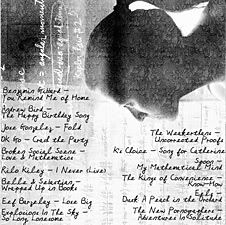 Love & Mathematics - A Mix for Proof
01. Benjamin Gibbard - You Remind Me of Home
You remind me of home: the heater's warm but fills the room
with a potpourri of dust and gas fumes
... You're wasting your life
02. Andrew Bird - The Happy Birthday Song
it's a giant and long cliché,
and that's why i want you to sing it anyway
sing me happy birthday
'cause hell, what's it all about?
03. José González - Fold
I promise one day I'll be coming around
from my cloud to see what it's all about.
04. OK Go - Crash the Party
To hell with Valentine's, to hell with perfume
To hell with chocolates and picnics and Sinatra tunes
05. Broken Social Scene - Love and Mathematics
(
Instrumental
)
06. Rilo Kiley - I Never (Live at Pomona, California)
i got nothing to give you, you see
except everything
07. Belle & Sebastian - Wrapped Up in Books
Our aspirations are wrapped up in books
Our inclinations are hidden in looks
08. Eef Barzelay - Lose Big
if you're gonna lose then
you might as well lose big then
09. Explosions in the Sky - So Long, Lonesome
(
Instrumental
)
10. The Weakerthans - Uncorrected Proofs
So you fumble for a voice, and sing "Happy Birthday."
Read it to yourself again. The stories always end the same.
11. K's Choice - Song for Catherine
It will pass, things will change
But you don't want to hear that
12. Spoon - My Mathematical Mind
no more riding the brakes
13. The Kings of Convenience - Know-How
Surely, I'm no pioneer
Constellations stay the same
14. Eels - Dusk: A Peach in the Orchard
(
Instrumental
)
15. The New Pornographers - Adventures in Solitude
We thought we lost you
Welcome back
---
DOWNLOAD (71.95 MB)
left-click and follow the instructions
Zip available on Mediafire.
--Stock photos from
sxc.hu
.
--Actually, all of "You Remind Me of Home" makes me think of Catherine & Robert. I can't help feeling that their father/daughter relationship is a thousand times more realistic and comfortable, even, than Cathy & Hal.
--I like this live version of "I Never" better, because with just Jenny's vocals and the piano, it sounds a lot more intimate.
--I'm now addicted to Explosions in the Sky, since their music strikes me as very cathartic. So consider "So Long, Lonesome" to be playing from the end of Act I, all the way through Intermission.
--And the main reason I made this mix ... is because I'm currently doing Act I, Scene 3 for my acting class. *crosses fingers and hopes for the best*
Enjoy!
(crossposted at
fanmix
)